Larso – The Solar Butterfly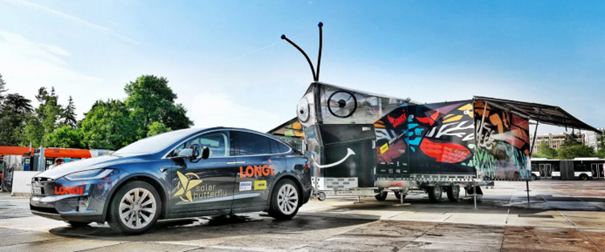 Have you heard about Larso, the Solar Butterfly? Larso visited Hungary, and Budapest in particular, between 9-11 September 2022 and we had the pleasure to meet him. But who is Larso, the Sollar butterfly? The Solar Butterfly project was set up to achieve the goals of the Paris Climate Agreement, so in the spirit of sustainability, this car, which looks like a butterfly with Longi solar panels, is travelling the world, stopping by in cities like Budapest, where they organize these events to make people familiar with sustainability and to explain the project's goals, and to meet its creator Louis Palmer, who was actually born in Budapest, so of course Budapest, which is close to his heart, could not have been left out of the Solar Butterfly's stops. The world tour started in May 2022 from Geneva and Larso plans to cover 200 kilometres in 4 years, visiting 6 continents and 90 countries.
Thanks to solar panels, Larso is powered by 100% renewable energy and will make eco-history with his journey. What is certain is that with his project, Louis Palmer is proving that the solution is in front of us to save the planet.
Did you meet Larso in Budapest or are you planning to go to one of their events in another city somewhere else in the world?
Forrás: https://www.tisztaenergiak.hu/a-fenntarthatosag-jegyeben-erkezik-magyarorszagra-napelemes-szarnyain-a-solar-butterfly/